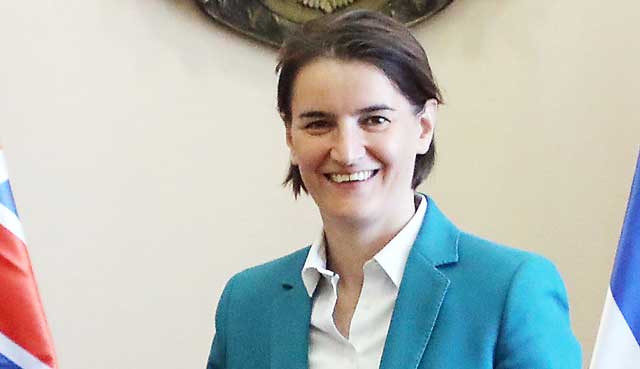 Brnabic : The biggest growth in the past decade
According to the current estimates, the expected growth in gross domestic product in the first quarter of 2018 is 4.5 percent, which is significantly higher than the projected growth, which stood at 3.9 percent for this period, says Prime Minister Ana Brnabic.
The growth of the Serbian economy during the first three months of this year is significantly higher than the average growth in the region and in the EU, Ana Brnabic announced.
"This is the highest quarterly GDP growth in the last ten years and is the result of the reforms initiated by the previous and continued by this Government. We have shown that teamwork and commitment of all members of the Government can achieve projected GDP growth that enables us to create new jobs and higher salaries and pensions. A strong economy means a strong Serbia, " Brnabic stressed.
"Equally as important as the rate of growth is the fact that the model of economic growth is changing. Instead of borrowing and spending, which were the main drivers of the Serbian economy ten years ago, growth is now based on sustainable sources, primarily on production, investment and innovation, " the prime minister advised.
She says that in the budget for 2018, the Government allocated 128 billion dinars for investments in capital projects.
"In the first quarter, exports of goods continued to grow by more than 10%, while imports of machinery and materials increased, which is accompanied by the growth of the manufacturing industry. The growth of service export of almost 20% in the first two months is an indicator that Serbia's economy is becoming more and more knowledge-based. Only in business and ICT services, there is a surplus in the exchange of services with around 200 million euros abroad, " as said in the statement.
"There is no time to relax, the government remains committed to accelerating economic growth and changing economic paradigms, the prime minister said.
For sustainable economic stability and inclusive growth in the years ahead, the key to continuing the restructuring of the economy, especially in the public sector, is further improvement of the business environment, the focus on strengthening the rule of law, expanding and modernizing production capacities and fostering innovation and development.
"In order to make sure that our GDP is growing in line with the projection, we have introduced the mechanism of two-week tracking of key growth indicators, in order to reduce the chances of weather conditions or any other factors surprising us. The government continues to constantly monitor the implementation of all projects in order to achieve projected growth by the end of the year, " told the Prime Minister.
Izvor: N1
Foto: Beta/Slobodan Miljević