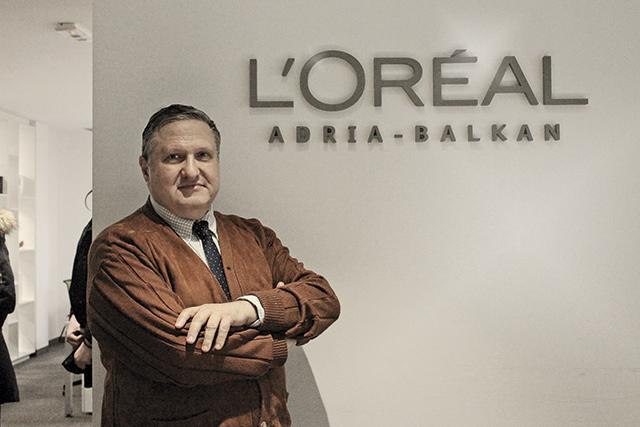 First time for Serbian media – Vice President of L'Oréal Group: The Beauty of Ethics ans Ethics of Beauty
The concept of ethics in business is, at least for Serbian companies, the "Spanish village". The ethics is based on good will and moral values of the owner of the company, and some institutionalization of ethics in local companies still seems to be quite far away.
However, the world is already very engaged. One of the most famous companies when it comes to this matter is L'Oréal, who has been engaged in ethics in business for 35 years. Emmanuel Lulin, is the Vice President and Chief Ethics Officer of this famous company. During February, he visited the L'Oréal subsidiaries in the region, and he also came to Belgrade. We used this opportunity to ask him why ethics is so important for business.
"There is no good business, without, I would say, good ethics. When you work ethically, with integrity, when you work with respect, courage and transparency then you create trust. And trust is the currency of ethics," says Lulin for BIZLife and adds: "And when you're a company, especially the one dealing with consumer products, you must have the trust of your customers, suppliers, shareholders and employees above all. If you do not have any trust, especially shareholders, the company will be less valuable, and maybe one day it will even disappear. The best way to work for a long time is to generate and preserve your trust. Because you can generate a lot of trust with a great lie. However, you cannot preserve it. Of course, "generating cash" is important, but generating trust is more important."
Do you know yet another company that pays such attention to this topic?
There are many companies that are treating businesses in a similar way to us. It would not be good that we are the only ones. We do not pretend to be the best one on this matter; we just do what we believe in. We do not ask for perfection, we are just heading towards to be great. As a big organization, we also have our problems. We operate in almost 70 countries, we have 83,000 employees and it would not be good to say that we have no problems. But what makes this company great when it comes to ethics is that we act honestly. Sincerity is the critical factor for accessing the ethics of an organization. Because many organizations have a good program but what distinguishes them as more or less ethical is sincerity.
You also printed the "Code of Ethics" of the company, which looks like a manual for your employees. It describes every situation in which an employee can be found, with an explanation about how employee can solve it.
A lot of time and energy are spent in L'Oréal to seek for universal concepts. We work in many countries, so each country has its own sense of what is bravery, integrity etc. We are aware of that, but this is also a great starting point for a great conversation with colleagues. Therefore, those ethical principles are in fact a common language within L'Oréal. So, instead of asking thousands of employees to learn Esperanto, we ask them to learn the language through four words: integrity, respect, courage and transparency. In order to make sure that this will happen and that everyone will learn these four words, last year we printed a book with each of these ethical principles, illustrated by quotes and sayings from the countries in which we operate, and in their languages, through which we wanted to pay homage our employees. It's a great way to start talking to a colleague from another country by saying something in their language.
Does the problem of employees end up on your desk as well?
Any employee who has a problem or issue in relation to the code of ethics can address our ethics correspondents, which we have in every country in which we operate. Correspondent is a highly responsible person with good listening and analytical skills, and trying to find a solution using those skills. If one does not feel comfortable to ask some question in his own country, he or she can do it at the whole group level, through our "ethical line" that works 24 hours a day and is available in 25 different languages. From there the arisen problem comes to us, and we are solving it.
What happens when an employee breaks a code of ethics?
There are some areas where tolerance absolutely does not exist. These are, for example, corruption, sexual harassment… Every year, we announce how many cases were cases we had where the code of ethics was not practiced, how many of these cases were sanctioned, and how many were not, but we also announce how many people were dismissed due to disrespect of the company's principles. I've been talking about this report with teams working here. I informed them about all the data and we discussed it. Transparency helps a lot to encourage colleagues to "talk" and feel the need to "speak up" about something. They know that we are a safe place, which does not tolerate reprisals. And we encourage colleagues because in this way we also make better business decisions. If we are working on a project and a colleague notices a defect in this project, he or she will not be afraid to say it because the boss is in the room, furthermore – by doing so he or she will influence making a good decision at company level.
When discussing the work or integrity of a certain company, my proposal would be to ask only one question to employees: do you have the freedom to express your opinion without fear?
Ethics is also a global topic when it comes to business?
There is much talk about ethics, especially at senior management level. Innovation is now coming very fast and when you find yourself in a dilemma, how do you make decisions? Do you make decisions at the basis of your values? Ethics? When we have a situation like this in the 21st century, in which we have an acceleration of innovation and a decrease in production, then the importance of the law is diminishing, as well as the matter of ethics. Nowadays, ethics is also a question in the political arena. And everything is a matter of good decision, so ethics is more important than ever. The ethics are now above the law. We are not asking any more questions whether we have right to do something, but is it the right thing to do? And now we need to focus on this second question.
What is "the right thing" for L'Oréal?
L'Oréal is in the beauty business, and ethics is beauty from inside. As you are in this business, you can not ignore inner beauty. For our company, it is a natural thing to do it. "The beauty of ethics and ethics of beauty" is the slogan of my department. One thing is that we produce cosmetic products, but we also want to "help the world" through our ethical models, which will improve the "beauty of the world". Maybe it's just a drop in the sea, but it's the beginning.
___________________________________________________________
PRIDE
You recently received a recognition from the Ethisphere Institute for one of the world's most-ethical companies. That is 10th time you got it.
As a company we are proud that we are recognized for the tenth time as one of the most ethical companies in the world. We are not the only ones, but we may be one of the only companies  that behaves, to say, in good faith. I would describe this by one example. If my house is terrible, the guest will not hesitate to put his legs on the table. If my house is clean, if my company is clean, the guest will hesitate. The environment in which we operate has a strong impression on the behavior of individuals. If you work in a company that is recognizable by integrity, people will behave appropriately to such an environment.
____________________________________________________________
LADIES
Why is it good to work with women?
I would turn around this question. I would say: we are hiring men because they can work as good as women. We are proud for having both women and men working at our company, who can develop themselves in our company, advance and have the same rights. We hope that soon the Company Board members will be half women, half men.
______________________________________________________________
I'M AN OPTIMIST
In the global business, increase in the number of women in the top management of companies is quite important topic.
I agree that men may dominate top positions in companies, but I do not see an objective reason why this is so. We do not see an objective reason as a company either. Some studies even show that women are more successful in business. As a world in general, we are now living in the process of transition and I am an optimist. I have four children, of which there are three daughters and I encourage them not to accept differences and to use every opportunity to learn and advance.
Izvor: BIZLife magazine
Foto: BIZLife photo
Piše: M.Miličković