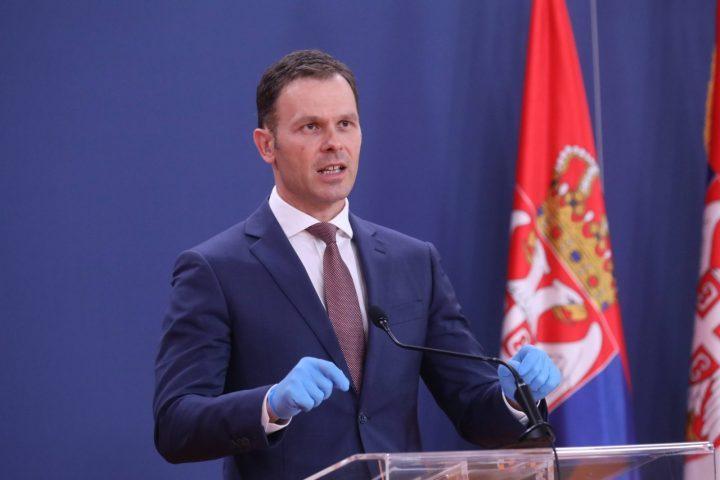 "The world's largest powers recorded decline, Serbia had a 5% growth"
The Minister of Finance, Sinisa Mali congratulated the International Labour Day to the citizens of Serbia and pointed out that state showed how much it takes care of each worker during the pandemic of the coronavirus. "Despite these difficult times for the global economy, we have focused all our efforts precisely on making workers feel the burden of the coronavirus pandemic as little as possible. We have adopted an Economic Measures Program that will help employees retain their jobs and earn wages, and on the other had it will ease business activities to their employers," Mali said and Ministry announced. He added that it is important for workers to be protected in these new circumstances, and employers must secure all the necessary equipment in order for them to do their jobs without interruptions. During the month of April, 339 companies, which either completely stopped or significantly reduced production due to the pandemic, normalized their work, while 34,884 workers returned from their leave to those companies. So, everything is starting slowly again, and as of May 7th, the first minimum wage payments will start as a support and aid for employees. We have set aside around 32 billion dinars for this purpose," Mali said. He pointed out that Serbia is one of few countries in the world where a small percentage of people have lost their jobs and emphasized that the country is better than the most powerful economies in that aspect as well. "While world's biggest economies experienced a huge economic downturn in the first quarter, Serbia recorded a growth by five percent. During the pandemic, we have shown that our economy is flexible and adaptable, and that we can produce the necessary medical supplies, medicines, etc. ourselves. Companies and workers have organized themselves well, adapting to new circumstances. It is now more than ever clear that there is no economic growth without good workers," Mali emphasized.
Izvor: Beta
Foto: Beta
What's your reaction?