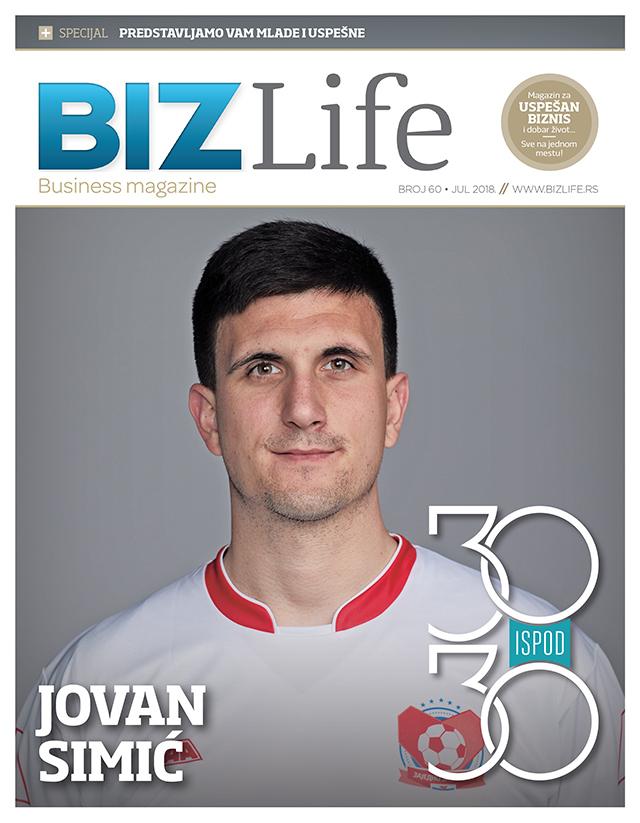 BIZLife list "30 under 30": Jovan Simic, social activism
Jovan Simic, born on 9 March 1991 in Belgrade, is a final-year student of the Belgrade Business School of Professional Studies. He started doing humanitarian work in 2014 when he organised an auction of his collection of football jerseys for the treatment of Nadja Novakovic, who needed 300,000 euros for emergency bone marrow transplantation. 80,000 euros were collected directly through two auctions, and due to the public attention attracted by the campaign and support of the media, athletes and public figures, within a few days, the entire sum of 300,000 euros was collected and Nadja is today a healthy girl who got her normal life back. He was the creator of the humanitarian concept and event "Sport Bazaar", which gathered, on two occasions, famous athletes, actors, writers and other public figures who personally sold their personal items at the improvised "humanitarian market". He initiated, created and organised four humanitarian football games which gathered the legends of Yugoslav and Serbian football such as Radomir Antic, Bora Milutinovic, Predrag Mijatovic, Dejan Stankovic, Ivica Kralj and many others. Through the first match, 120,000 euros were donated for the construction of the children's chemotherapy centre in Nis, and owing to the second match, funds were donated for the purchase of devices for the Uzice Maternity Ward, while the funds from the last two matches were allocated for the fund for assistance to the treatment of children of the "Together for Life" (Zajedno za zivot) humanitarian organisation, which Simic founded in September 2017. This organisation helps the sick children in the process of treatment, but also their parents through the entire treatment process and collection of funds necessary for treatment. To date, the "Together for Life" humanitarian organisation has helped more than 20 children in the process of treatment, donating funds for the treatment, rehabilitation or procurement of medical devices necessary for the treatment.
Izvor: BIZLife magazin
What's your reaction?